Eddie Izzard thanks Isle of Man for £30k Syria aid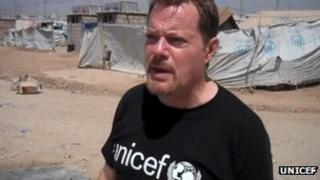 Comedian Eddie Izzard has written to the Isle of Man government thanking them for their support for a humanitarian relief project in Iraq.
The handwritten note was sent after the star visited a Unicef camp to see how donations were being used to help those fleeing the conflict in Syria.
The government had donated £30,000 to the Children's Crisis in Syria appeal.
Phil Gawne MHK said the letter showed that aid from the island was making a "positive difference to people".
The comedian, who works as an ambassador for the children's charity, travelled to the Domiz camp in northern Iraq which has seen 45,000 people escaping the conflict descend on a space intended for just 15,000.
He wrote that families in the camp were "facing many problems, from extreme heat to overcrowding and health".
"The situation for children is critical. Yet, thanks to funding from supporters such as you, Unicef is providing water, sanitation, education and a safe place for children to overcome the trauma they've experienced."
The donation was made by the government's International Development Committee, which a spokesman said supported "the world's less developed nations through emergency aid and capacity building programmes".
Mr Gawne said that "given the scale of the humanitarian crisis in Syrian refugee camps, it is important that the Isle of Man does what it can to help those who are struggling for the basic necessities of life that many of us take for granted".