Aer Arran 'in talks' to avert pilot strikes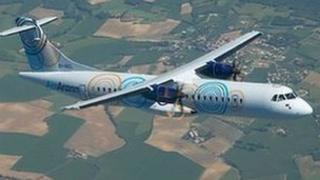 Pilot union talks with airline management are continuing, ahead of planned industrial action next week, according to Aer Arran.
It is hoped the discussions will avert strikes which could affect flights between the Isle of Man and Ireland on 20, 21, 24, and 25 August.
The airline operates daily regional flights from the island to the Irish Republic, on behalf of Aer Lingus.
A spokesman said the discussions began at 17:00 BST on Thursday.
The Isle of Man government said: "Aer Arran says it is working on a revised schedule for flights between the Isle of Man and Dublin next week - if pilots go ahead with a planned strike.
"In an escalation over a long-running pay dispute, Aer Arran pilots have voted in favour of a walk out- bosses say they'll operate as many flights as possible."
'Pay freeze'
A spokesman for the IMPACT union, which represents the pilots, said 91% of members voted in favour of industrial action.
"The dispute is over management's refusal to end a pay freeze and restore pay cuts implemented when the airline was in financial trouble," he continued.
"IMPACT says there is no justification for a continuing pay freeze now that the company has returned to a sound commercial footing, which is the basis of a fleet replacement programme and a lucrative long term franchise with Aer Lingus."