Man runs 220 miles in memory of Bee Gee Robin Gibb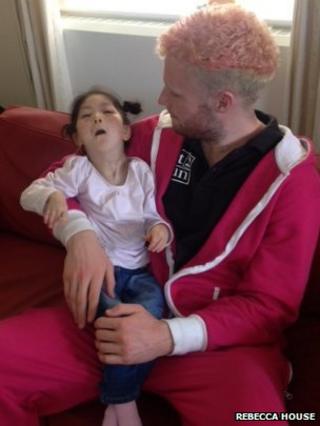 The son of Robin Gibb's former manager has completed a 220-mile run in honour of the former Bee Gees singer.
William Graydon, 24, set off from Gibb's former Oxfordshire home seven days ago and completed his journey in the Isle of Man.
He said his adventure had been an "emotional rollercoaster".
The run, which was timed to celebrate the fact the Bee Gees have now sold more than 200 million records, raised money for three charities.
One of the charities set to benefit is the Isle of Man's children's hospice, Rebecca House in Douglas, which was opened by Robin and his wife Dwina in 2008.
'Pink y-fronts'
The charity's Mary Doyle said it was an "amazing feat".
She said: "It was perfect that he finished his challenge here with us."
Robin Gibb, who died in 2012 aged 62 after a lengthy battle with cancer, was born in the Isle of Man in 1949.
Mrs Doyle added: "The courage showed by Robin during his final months inspired William and his support team to commit to an event that will have pushed them to their limits - something the singer did throughout his life."
The 24-year-old was supported on his challenge by his father Ken, Robin Gibb's nephew Steven Murphy and close friend Benedict Smith - who cycled alongside him.
He completed his seven-day journey, for which he wore pink Y-fronts, by running from Rebecca House in Douglas to Peel and back on Saturday.
He said: "The idea was to raise as much awareness and money for the three charities; all of which really make a difference to people's lives."
As well as Rebecca House, Mr Graydon was raising money for two English charities, The Haig Housing Trust and the Royal Marsden Cancer Charity.