Isle of Man sea god poetry published for culture year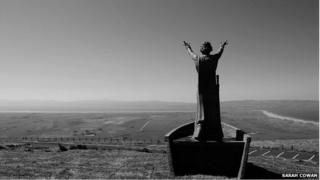 A book of poetry inspired by a mythological sea god is set to be published as part of celebrations to mark the island's year of culture 2014.
On Manannan's Isle, the debut collection from Douglas resident Usha Kishore, will be published in February.
The Indian-born writer said she was fascinated by a deity which protects the island by shrouding it in mist.
"I suppose Manannan appeals to me because I come from a culture with 33 million gods," she added.
The ancient Celtic God, Manannan, appears in many Celtic myths as a shape-shifting, magical being.
'Resilience' symbol
Every year at the Tynwald ceremony in St John's, rushes are laid on the processional path as a tribute to the sea god, who was believed to protect the island from trouble by bringing down a cloak of mist.
"In the title poem of the book, I ask Manannan, 'Which god are you?' Because he relates to Vayu the Hindu god of air, Varuna the god of water and Indra, the Lord of storm, so I think he is a combination of them all," said Mrs Kishore.
"I think he is very much a symbol of the island's resilience."
On Manannan's Isle has received funding from the Isle of Man Arts Council and Culture Vannin.
The Island of Culture 2014 aims to "celebrate excellence, identity and community" in the Isle of Man.