Isle of Man TT circuit fenced for bike festival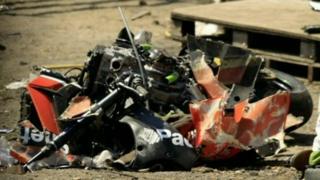 Safety fencing has been installed on part of the Isle of Man TT circuit, ahead of a motorcycling festival.
The measure has been brought in on Bray Hill, the scene of a crash in which 10 spectators were injured in June.
The move is the result of a "comprehensive review" by organising body, the Auto-Cycle Union.
Course Inspector Gary Johnson MBE said the 12ft (3.6m) fencing would mean Festival of Motorcycling spectators could still watch from the area.
In June, 10 people were taken to hospital following the TT crash which happened when a rider lost control and crashed on the fast downhill section, less than a mile from the start.
The rider involved, Barnsley's Jonathan Howarth, sustained a minor fracture.
Mr Johnson said: "Nobody wants to get injured, what happened that day was disastrous but everybody recognises that motorsport is dangerous, whether it is four-wheel or two-wheel.
"Spectators recognise it, riders recognise it and race officials recognise it.
"Based on our experience as course inspectors and after having heard from many of the top riders to determine where exactly the racing lines are in this area we have put in protection accordingly."
Bray Hill, which is one of the most popular vantage points for TT spectators, is less than one mile from the Grandstand, the start of the TT course.
The same circuit is used for racing at the Manx Festival of Motorcycling, which is due to get under way on Saturday.