Isle of Man Arctic Convoy survivor honoured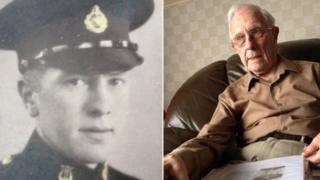 A 90-year-old veteran who survived the World War II Arctic Convoys has been presented with a new military medal at a ceremony in the Isle of Man.
Gordon Cowley, from Port Erin, will be honoured for his part in transporting crucial supplies and munitions to Russia between 1941 and 1945.
The former postal worker said he was one of three Manx people involved in the notoriously dangerous voyages.
He added: "Sadly the others have all passed on, I'll be the only one there."
More than 3,000 Royal Navy and merchant seaman died while protecting supplies on their way to Russia and the Eastern Front during World War II.
The convoys were described by Winston Churchill as the worst journey in the world.
They began in 1941 and by May 1945, the Arctic route had claimed 104 merchant ships and 16 military vessels.
'Sitting targets'
"The whole area was often seen as a bit of a trap," said Mr Cowley, who joined HMS Edinburgh in 1942 as a member of the ship's Royal Marine band.
"For much of the time we were surrounded by enemy battleships, U-boats and planes - they came at us from all directions," he added.
HMS Edinburgh, a 10,000-ton convoy cruiser involved in escorting merchant ships from Iceland to Russia, was the first to carry breech-loading guns and was heavily armoured.
"Our ship was protected and we could move fast but we had to keep our speed down because the supply boats were extremely slow," continued Mr Cowley.
"We just had to chunter along, it made us very easy targets."
On 28 April 1942, after an incident-free journey to Murmansk in Russia, Mr Cowley and the rest of HMS Edinburgh's crew helped load the ship with crates of Russian gold.
The bullion, payment to the Americans for arms it supplied, was worth millions of pounds.
"On the journey home we were spotted by a German U-boat which launched two torpedoes and hit us twice," said Mr Cowley.
"The ship was badly damaged so we tried to get back to Murmansk but two days later we were hit again and this time we started to sink.
"The sea temperature was 30 degrees below freezing so we wouldn't have survived for long but luckily two minesweepers were in the area and could pick most of us up. I was one of the lucky ones I suppose, we lost fifty-eight [two officers and 56 ratings] of our chaps that day, very sad."
The Arctic Star, Mr Cowley's 6th medal, was presented at a ceremony led by the island's Lieutenant Governor at Government House in Douglas on Monday.