Fishermen rescued from stricken vessel off Manx coast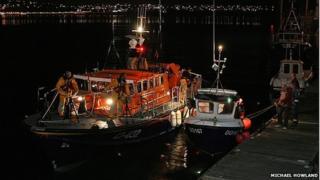 Two fishermen have been rescued after their fishing vessel broke down off the Isle of Man coast.
The Douglas lifeboat was called out at about 20:20 BST on Saturday to rescue the two crew members on board the stricken boat near Port Soderick.
A spokesman said they had got into difficulty after their engine and gearbox mounts broke.
The stricken 6.3m (20ft) vessel was towed back to safety and moored at Battery Pier in Douglas for repair.
When returning to Douglas, the lifeboat crew was called to the aid of two people who had been washed out to sea on an inflatable dinghy.
Having confirmed that they were not in need of assistance, the lifeboat resumed its tow of the fishing vessel back to Douglas.