Sports hall tribute for Manx Grand Prix racer Tommy Clucas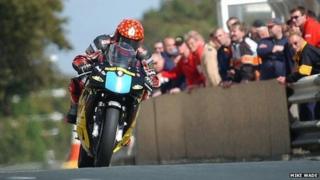 A sports hall, built in memory of the Manx Grand Prix (MGP) racer Tommy Clucas, has opened in the Isle of Man.
Mr Clucas died following a high-speed crash at the 2004 MGP, held on the TT course, having beaten the Junior lap record earlier in the race.
Friends and family set up the Tommy Clucas Memorial Fund the following year to honour the rider's memory.
The new all-weather facility was opened in Peel on the ninth anniversary of the rider's death.
According the fund's chairman Kelvin Dawson, the 40m (131ft) by 25m (82ft) sports hall, located next to Peel Football Club, has been designed to benefit the "whole community".
'500 million favours'
Mr Dawson, who used to play football alongside Mr Clucas for Peel, said: "He would be so proud of this facility.
"He was a fantastic racer and footballer as well as a great character and friend and it would have delighted him to know this was here."
The trust has been raising money for the £450,000 facility for eight years by holding numerous events including the annual Peelstock music festival.
Mr Dawson added: "So many people have worked so hard to make this happen. We have had to ask for 500 million favours to pull it off."
Members of Mr Clucas's family had travelled to the island from Scotland and Canada to open the facility on Sunday.
The 36-year-old from Peel made his MGP debut in 2000 and in 2004 became the first racer at the event to average 120mph over a lap of the 37-mile Mountain Course.
He was killed when his engine seized at high speed during the final lap of the 2004 Junior race. He had been leading the race.
Mr Clucas also represented the Isle of Man and Peel at football and helped coach his local team.