Ramsey swing bridge closes for £750k repair project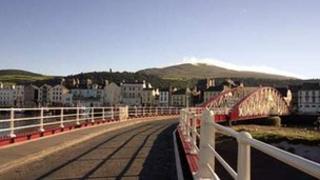 Ramsey's 120-year-old swing bridge has closed for three months for urgent repairs costing £750,000.
The Victorian bridge, built in 1892, is used by both cars and pedestrians to cross the River Sulby.
Minister David Cretney said the work would "secure the future of the bridge and avert a major failure."
According to the Department of Infrastructure the bridge will remain closed to cars and pedestrians for three months.
The spending of £750K was approved by Tynwald earlier this year.
The scheme will include a major overhaul of the main turning mechanism and bearings.
Last year, Mr Cretney said significant damage was noted on the bridge caused by misalignment.
He added: "Failure to undertake this work now will result in its continued deterioration and consequent increased costs."
"Given the iconic nature and location of the bridge, we feel that undertaking a refurbishment scheme would be much preferred to having to take the bridge permanently out of operation following a major failure."