Plans for a new Isle of Man ferry service are delayed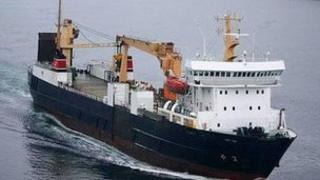 Plans for a new ferry service between the Isle of Man and the United Kingdom have been delayed until 2014.
The Ellan Vannin Line, owned by Manx company Sea Alliance, aimed to introduce an additional freight service between Douglas and Heysham in October.
All island operations are currently handled by the Steam Packet Company.
An Ellan Vannin Line spokesman said the delays have been caused by complications in purchasing a new vessel.
Sea Alliance head Kurt Buchholz, said they are determined to offer an "affordable solution" to the people of the Isle of Man.
"We have found a very specific ship which will fit our needs," he said.
"We have decided rather then looking for new vessel that we will wait a couple of months for this particular ship."
There are also plans for a passenger service to Liverpool to start next year.
Sea Alliance hopes to supplement the cargo service currently being offered by the Steam Packet company by using smaller vessels. It also hopes to charter a passenger vessel to establish a new service before the TT festival next June.