Manx farmers back 'Noah's Ark' plan for rare breeds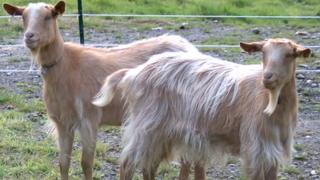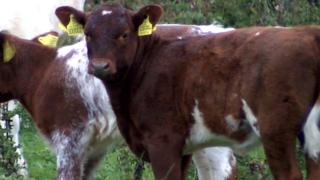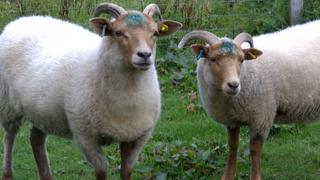 Guernsey Goats, Northern Dairy shorthorn cows and Portland ewes are just some of the farm animals at risk from extinction.
Paul Davis, a farmer on the Isle of Man, wanted to do something to help.
"I thought why not set up a Noah's Ark project near my home."
On the farm where he has shipped over endangered animals, he said: "It dawned on me that if we bring two or more of all the endangered breeds here, it would be like a Noah's Ark.
'Major outbreak'
"We would have a breeding stock here which could help re-establish the stocks on the mainland if there was a major outbreak of disease."
When Mr Davis came up with the idea he asked the Rare Breeds Survival Trust (RBST) and local farmers for their backing. They all agreed it was a good idea, which allowed the plan to take off.
The newest arrivals to the island are Golden Guernsey goats. Tracey Ridgway has five and has to keep them quarantined for six months.
Whilst hand feeding them on Close Leece Farm, she said: "If we lose these beautiful animals the world will be a worse place, they are fantastic and so friendly."
'Jurassic Park'
Fiona Anderson runs a farm, Knockaloe Beg, with her husband John. They have a flock of Manx Loaghtan's, Portland ewes and Golden Guernsey goats.
"I like Paul's approach to the Noah's Ark idea, we have children's parties where they come and see the animals and see the importance of protecting these flocks and herds.
"It's no more difficult than looking after any other sort of animal, it's time consuming but they are all very lovely."
The Manxman has 50% of the world's population of Northern dairy shorthorn cows.
"Some of the locals refer to us as Jurassic Park," he jokes.
"But we are doing pretty much the same thing preserving the heritage of animals that were about to disappear off the face of the earth."
Rob Havard is the managing director of the Rare Breeds Survival Trust and thinks it is an "exciting" project.
"We are really glad to have people like Paul who are driving our agenda in their own way.
"As a small national charity we rely on people taking the initiative and Paul Davis deserves great credit for doing this on the Isle of Man."
Mr Davis hopes that after next spring's deliveries, calving and lambing, the number of rare breed animals on the Isle of Man will be nearer 150-200.