Isle of Man constituency names deadline looms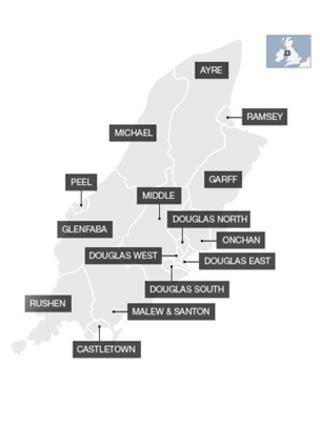 The deadline for people in the Isle of Man to suggest names for the new House of Keys constituencies will close next week, the government has confirmed.
Twelve two seat constituencies are due to be created, as recommended by the independent Boundary Review Committee and agreed by Tynwald in June.
They will replace the current mixture of three, two and one-seat constituencies.
A government spokesman said name ideas should be submitted by Monday.
The reform of the Isle of Man's electoral boundaries will be in place for the 2016 general election.
Earlier this year the island's Boundary Review Commission recommended the current system of 24 political seats be more equally divided into 12 constituencies.
Under the new proposals, each of the 12 areas would be represented by two members of the House of Keys.
The current system is based on 15 constituencies, with Rushen and Onchan having three political members while the four Douglas constituencies and Ramsey have two.
Ayre, Castletown, Garff, Glenfaba, Michael, Peel, Malew and Santon, and Middle all have one.
The changes mean an end to a system in which some Manx residents get three votes and others get just one.
During the public consultation on the issue, the committee received 68 written responses.
Other feedback came from meetings with 16 members of the House of Keys and five local authority representatives.