Isle of Man Electric Railway revamp to cost £700,000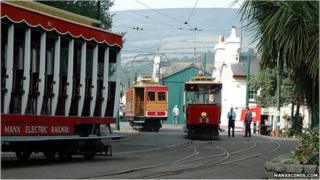 Refurbishment plans for an electric railway station on the east coast of the Isle of Man, are set to cost almost £700,000, says the Manx government.
The money will be spent "renewing ballast, sleepers and rails" at the station in Laxey, a spokesman said.
The department of community, culture and leisure (DCCL) will apply for funding at the next sitting of Tynwald.
"It is essential to ensure the railway can continue to operate safely," DCCL Minister Graham Cregeen said.
"It is a necessary investment to improve standards and ensure that we maintain the railway for future generations."
Construction of the Manx Electric Railway began in the late 1800s and typically its season runs between March and August every year - although special events are arranged during the winter months.
If funding is approved during the October sitting of Tynwald, the DCCL said work will begin in November and be completed by March 2014.