New Manx language app for children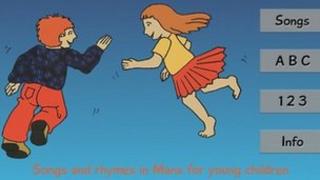 A new language app for smart phones and tablets has been launched to help children learn Manx Gaelic.
Manx Songs and Rhymes is an interactive song book voiced by young Manx speakers and includes number translations.
The online language tool is the second to be released by the Manx Heritage Foundation (MHF), in association with the Gaelic Broadcasting Committee.
MHF said it consists of 34 songs and rhymes with "karaoke-style highlighting" and spoken audio.
The first Manx language app was produced last year and has since been accessed by more than 4,000 learners.
Manx Language Officer, Adrian Cain said: " This is another example of just how dynamic and cutting edge the language movement is at present.
"Hopefully, this app will introduce a whole new group of people, young and old, to the language"
In 2009 the Isle of Man's native language was declared "officially extinct" by UNESCO, but it has since seen a revival.
Manx Songs and Rhymes is free to download from Google Play and the iStore.