Isle of Man patrol vessel improving fishing 'Wild West'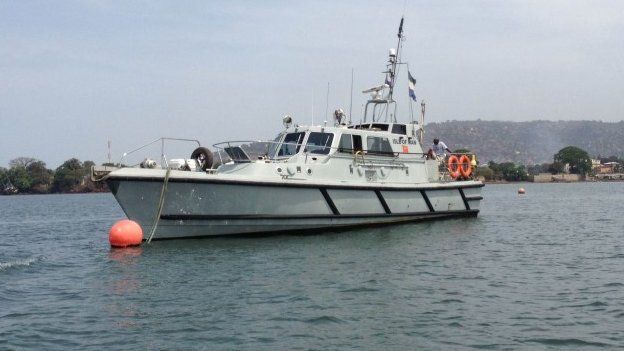 Assistance provided by the Isle of Man is "dramatically improving lives in Sierra Leone" the island's environment minister Phil Gawne has said.
The call comes one year after the Manx government donated a former customs and excise vessel to assist with their fight against illegal fishing.
Mr Gawne has just returned from a trip to the West African country and said the boat is playing a "pivotal role".
The boat named "Isle of Man" is now the fastest in the country's waters.
The vessel allows patrols to stop and inspect any fishing boat in their national waters and fines of up to $1m can be imposed for trawlers in breach of the law.
According to Mr Gawne the move has already led to dozens of arrests and hundreds of thousands of pounds worth of fines being imposed.
He said: "Until quite recently the fisheries sector could be described as the equivalent of the Wild West and the public sector, while much improved, is still emerging from the position of a fragile state.
"The support is having a significant impact on the lives of some of the world's poorest people who rely on the country's fisheries and the vessel is playing a pivotal role."
The Isle of Man has also assisted with the installation and operation of a new satellite monitoring system.
A spokesman for the Sierra Leone fisheries said: "It is the only patrol vessel we have and it has made a big difference to our fishery."
During his visit Mr Gawne also reaffirmed the island's commitment to provide up to £250,000 a year for the next three years to enhance the country's fishing sector.
Mr Gawne said the three-year partnership reflects the "island's desire to ensure that humanitarian aid has the greatest possible impact".
He will deliver a presentation on the partnership alongside Sierra Leone's Fisheries minister Captain Alieu Momodu Pat-Sowe at an Interpol Conference in Nairobi next month.
Related Internet Links
The BBC is not responsible for the content of external sites.