Manx ferry company 'denied Douglas link-span use'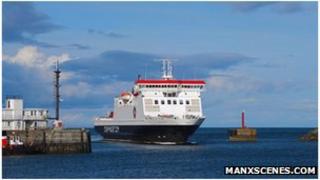 A Manx company attempting to establish a new Isle of Man ferry service says it has had its application to use the link-span bridges in Douglas rejected.
The Ellan Vannin Line announced its plans last year to launch a service to rival what it claims is the Isle of Man Steam Packet's "monopoly".
The company said it had received the rejection from the director of harbours and airports on Friday.
A spokesman said without it they "could not offer real competition".
He said: "Only in conjunction with the use of the link-spans would our intended service offer a real competition to the existing monopoly passenger service".
Director of ports Ann Reynolds said: "We are looking to respond to Ellan Vannin Line this week and, dependent on the information they give us and what they think of our answers, then things may or may not progress.
'Developing proposals'
"There have been a number of developing proposals in recent months but only one regarding a possible daily freight operation using a vessel with the side-loading ramp hoping to come into operation in March.
"But this service would use a berth which doesn't require the use of the link-span.
"We have not delayed at any stage - these have been developing proposals and there are details we must get to ensure that there is the possibility to operate any form of service in Douglas harbour.
"I must stress Ellan Vannin Line have not been denied access to Douglas harbour and discussions over a possible passenger service are ongoing".
On Thursday, the company, which is owned by Sea Alliance, announced it would no longer be able to begin its planned ferry service between the Isle of Man and Liverpool because of the government's slow response.
All island operations are currently handled by the Steam Packet Company.