Final three storm stranded seal pups returned to wild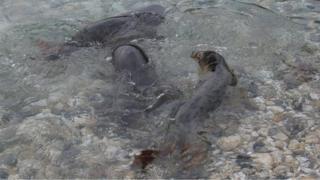 Three seal pups nursed back to health after they were stranded off the Isle of Man coast in stormy weather have been released back into the wild.
In total five pups have been released by the Manx Society for the Prevention of Cruelty to Animals (MSPCA) this year.
Jenny Corran, of the MSPCA, said winter storms made it a challenging year.
She said: "We have been pushed hard this year but days like this make all the hard work worth while."
The three seals, rescued from Fleshwick, Peel and Douglas, were released at Fleshwick in the south of the island.
Ms Corran said: "They arrive underweight and we help them to regain their strength on a diet of fish soup, vitamins and herring.
"We only release them when they are fit, healthy and fat. They were all ready and the time was right for them to go back."