Commonwealth Games 2014: Queen's Baton to visit island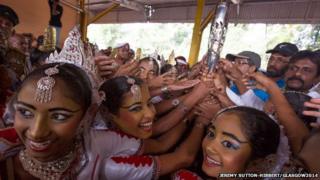 The itinerary for the Manx leg of the Queen's Baton relay has been announced by the Isle of Man Commonwealth Games Association.
The baton will visit the island on 16 May as it tours all 70 nations and territories of the Commonwealth on its nine month journey.
It will spend three days on the island after arriving from Guernsey.
An Association spokesman said it was an "integral part of the build-up to the Glasgow Games."
The Queen set the 118,000 mile baton relay on its way from Buckingham Palace on 9 October 2013.
The relay tour of the Commonwealth has happened in some form since the 1958 British Empire and Commonwealth Games.
On 16 May it will visit the Old House of Keys in Castletown, travel on the steam railway and visit the Manx Youth Games at the National Sports Centre.
The following day it will be taken to the top of the Laxey Wheel before going to the summit of the island's only mountain Snaefell.
On 18 May it will visit Peel before travelling on to Northern Ireland on 19 May.
The relay will culminate at the opening ceremony of the Glasgow 2014 Commonwealth Games on 23 July.
The tradition is for the Head of the Commonwealth, currently Queen Elizabeth ll, to write a message that is carried within a baton until it is finally read aloud to officially open the 2014 Games in Glasgow.