Isle of Man bus drivers lose unfair dismissal tribunal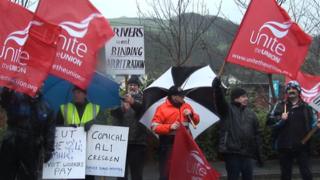 An employment tribunal has ruled that the Manx government did not unfairly dismiss 63 bus drivers.
The dispute began in 2012 when all drivers had their contracts terminated before being asked to reapply for their jobs with different conditions.
Drivers have held a number of strikes over the last 18 months over the potential £3,000 pay cut.
A panel voted with a majority of two to one that the Bus Vannin drivers were not unfairly dismissed.
Two drivers, David Kelly and Stephen Cowin, were used as the test cases for the 63 drivers.
Bobby Moreton, of the Unite union, said: "Our legal team will be pouring over the details of the full report and decide where we go from here.
He said the dispute "is ongoing" and the union would be meeting the Department of Community, Culture and Leisure (DCCL) on Thursday with an "open mind".
A DCCL spokesman said after the conclusion of the tribunal the new pay, terms and conditions will remain in place.
The department is hoping the changes to driver contracts will save £300,000 a year.
Chief Executive Officer Colin Kniveton said: "I commend the drivers for their professionalism and commitment to the public whilst the tribunal has been ongoing.
"Throughout this process, Unite have strongly defended their members and the Department has done all it can to act fairly and in the public interest.
"I know tensions have been high in the past but hopefully this brings an end to the industrial dispute."