Douglas's Peel Road surface to be re-laid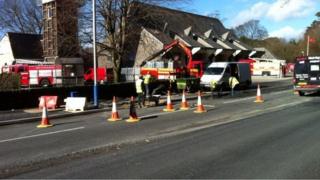 Several areas of "substandard asphalt" are to be re-laid on a major road in Douglas on the Isle of Man, it has been confirmed.
The Department of Infrastructure said test samples revealed around five per cent of the carriageway, on Peel Road, showed "construction weaknesses."
The main problems are around entrances to businesses and the fire station.
Despite this, it is hoped the £4.3m project will be completed in mid April, operations director Jeff Robinson said.
"A solution has been agreed with our sub-contractor and they have started the corrective work," he said.
"The rectification work includes removing substandard asphalt in the affected areas and re-paving it to the appropriate requirements."
He said the additional work will take around one week to complete and will be undertaken at no additional cost to the government.
The Department of Infrastructure said the project is on target to be completed 11 weeks ahead of their schedule.