WW1 Victory medal found in Manx field given to museum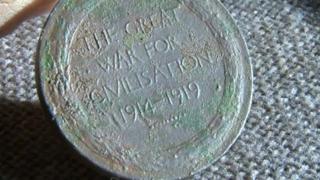 A World War One medal is to be given to an Isle of Man museum after the man who found it could not trace relatives of the soldier named on it.
Mark Leadley found the medal in a Colby field in November and believes it belonged to Pte William Henry Gelling, who served in the Coldstream Guards.
He said: "I've contacted every Gelling and been to every museum but I haven't found any relatives to pass it on too."
The medal will now go on display at the Manx Military and Aviation museum.
Museum director Ivor Ramsden said he was "thrilled to receive the medal".
He said: "We are working on a major new WW1 exhibition and this is another great story to be told".
'Not unusual'
The medal has the name WH Gelling impressed on the rim along with his service number, rank and regiment.
Mr Leadley said during his research he discovered Mr Gelling survived the war and was medically discharged in 1917 after being shot and wounded in action.
Official records show 8,261 Manx men enlisted in the armed forces during the great war, which was 82.3% of the Isle of Man's male population of military age.
Imperial War Museum North researcher, Charlotte Czyzyk, said: "The medals themselves aren't that unusual as there were over five million of them produced during the First World War.
"I think it is amazing that they are still surfacing nearly 100 years later".
Mr Leadley, 46, made the discovery while out searching in a farmer's field with a metal detector in the south of the island.
The medal was unearthed from a depth of around three inches (7.62 cm) but there are no clues as to why it was there.