Chibbanagh plantation closed for Larch felling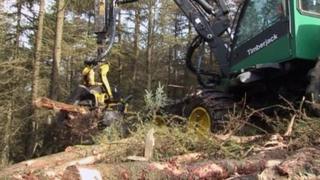 A plantation in the Isle of Man has been closed to the public for at least six weeks as work to fell diseased larch trees continues.
Ten acres of the 116-acre Chibbanagh plantation will be felled to prevent the spread of the Phytophthora ramorum pathogen.
Forester Jason Bolt said it will be closed to the public as a safety measure due to the heavy machinery.
According to Mr Bolt about half of the island's larch population is infected.
Larch makes up less that 10% of Chibbanagh plantation which also includes several species of mixed conifers including Spruce and Scots pine.
'Explosion'
Mr Bolt said: "Due to the nature of the specialist machinery, the plantation will remain closed to the public until the work is completed."
The Forestry Division has already cleared areas of infected trees in Tholt-y-Will, Stoney Mountain, Conrhenny and Axle Fell.
Mr Bolt said it was a "a very difficult situation" as they did not want not be cutting down the trees "but this is absolutely essential".
Phytophthora ramorum, also known as sudden oak death, was first found on the island in Ballaugh, during a routine aerial inspection in 2010.
The fungus-like pathogen causes the ramorum disease which is particularly serious in Japanese larch trees and rhododendrons.
In total, the island's Forestry Division plans to fell 450 hectares (1,111 acres) of larch across the Isle of Man.
It is thought the project will take around four years to complete.