'World's oldest yacht' excavated from island cellar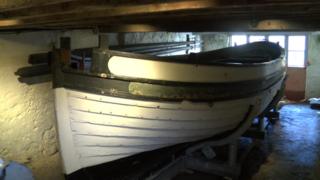 An archaeological dig is under way to free what is believed to be the world's oldest yacht from a cellar in the Isle of Man.
The vessel, Peggy, was built for Castletown politician and bank owner George Quayle between 1789 and 1793.
After Mr Quayle's death, the boat was locked away for almost 120 years, until it was rediscovered in 1935.
Edmund Southworth, of Manx National Heritage (MNH), said it was a "Manx treasure which needed rescuing."
He said: "Internationally, Peggy is quite simply one of the oldest boats to survive".
MNH is currently embarking on a five-year programme to remove, conserve and study the vessel.
A team of specialist archaeological contractors from England are currently working to excavate the boat from the cellar of Mr Quayle's former home.
Caroline Raynor, of Oxford Archaeology North, said her team had faced a "number of challenges".
She said: "To remove the boat we have to move more than 50 tonnes of 19th Century landfill which then fills up with water."
Other finds made by the team include an 18th Century leather pistol holster, boat-building materials and perfume bottles.
Most of the finds are being stored in seawater tanks to preserve them.
Mr Southworth said: "Mr Quayle was a bank owner and an MHK. He was a very wealthy man.
"Internationally, Peggy is certainly one of the world's oldest surviving boats which has never been restored.
"It is an absolutely fascinating project."
It is thought the boat was used by Mr Quayle for leisure purposes and to carry important mail to Liverpool.
Once removed, the boat will be dried naturally and restored, a process that could take up to seven years.