Manx beach bins 'to turn the tide' on litter pollution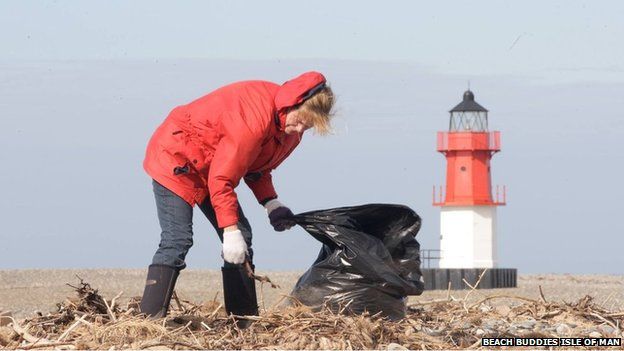 A new coastal clean-up project, which aims to "turn the tide" on Manx beach litter pollution, has been launched on the west coast of the Isle of Man.
The project will see new bins placed at beauty spots around the island to encourage walkers to collect rubbish.
Volunteer group Beach Buddies said the first bin was installed on Saturday at Glen Wyllin on the west coast.
Organiser Bill Dale said: "If everyone picked up a few bottles we could turn the tide on beach litter pollution."
He added: "Hopefully people will come along [and] chuck some rubbish in a bag while they are walking their dogs.
"We will make sure the bin is maintained.
"It means everyone can contribute towards protecting our environment and wildlife."
Each beach bin requires sponsorship of £1,000, the first has been backed by the Society for the Preservation of the Manx Countryside and Environment.
"The long term vision is that we have hundreds of these bins around the island," added Mr Dale.
"Eventually we would like to put them in the plantations and footpaths too."
Beach Buddies was established in 2006 with the aim of making Manx beaches the cleanest in Europe.
Related Internet Links
The BBC is not responsible for the content of external sites.