Isle of Man queenie fishery licence plans unveiled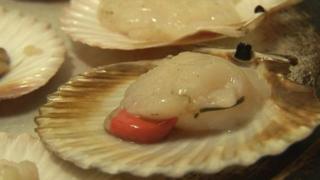 Tougher restrictions have been introduced by the Manx government to help regulate the queen scallop fishing industry in the Irish Sea.
The new laws, which will be brought in this year, require all fishermen working in Manx territorial waters to hold a government licence.
It follows a series of other by-laws aimed at restricting both catch size and length of the fishing season.
A Manx government spokesman said the new licences will be free this year.
He added: "The use of a licence will enable the department to quickly implement management measures such as setting catch limits, gear restrictions and closures.
"We remain committed to ensuring that this is a sustainably managed fishery which is also profitable for the fishermen involved and I believe that the new regulation will be a valuable tool in helping to ensure that we achieve this aim."
Manx territorial waters extend out to 12 miles around the island's coastline, slightly less in the north where it meets Scottish waters.
Other measures recently brought in include a minimum landing size, a minimum net mesh size, a weekend ban on fishing, fishing curfews and the introduction of a defined zone in which queen scallops can be fished for using dredges.