Repairs begin on Isle of Man flood-damaged wall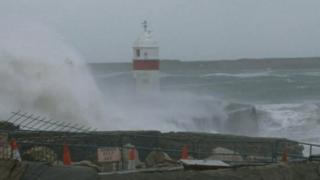 Nine-weeks of repair work has begun in the south of the Isle of Man following the collapse of a sea wall during stormy weather earlier in the year.
A 75ft (23m) section of wall beneath the Chapel Lane car park in Castletown was washed away in January.
Infrastructure minister Laurence Skelly said the affected area was vital to the stabilisation of the town.
He added: "The work being done is considerable and there will be some traffic restrictions in the area."
A hole, which appeared in the wall in early February was secured temporarily, but over time and after further extreme weather and high tides, more damage began to appear.
"The hole was initially filled in with rocks to protect it and prevent further problems but we always had it in mind to resolve the problem in a more permanent way," continued Mr Skelly.
An area of the car park will be cordoned off and closed to traffic to allow the repair work to take place.