Isle of Man freight vessel begins service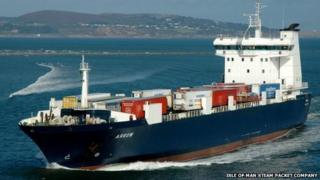 A new freight vessel is to come into operation in the Isle of Man this month, the Isle of Man Steam Packet has announced.
MV Arrow, which has been secured on a long-term charter, will cover the Ben-my-Chree while she undergoes her "biennial overhaul".
The Ben-my-Chree will be in dry dock for three weeks whilst several lounges are refurbished.
During this time, MV Arrow will take freight between Heysham and Douglas.
The company's other vessel the Manannan will take over passenger services.
MV Arrow will also supplement Ben-my-Chree and Manannan during the TT in June.
When not in use the Arrow will be docked at an Irish Sea port.
Mark Woodward, Steam Packet Company chief executive, said: "Our freight services are a lifeline for the Isle of Man and we take this responsibility very seriously".
"Securing MV Arrow on a long-term charter, which represents a multimillion-pound investment by the company, allows us to plan for scheduled maintenance periods."
The Steam Packet Company secured the long-term charter of MV Arrow from Seatruck in September last year.