Missing fishing boat prompts Isle of Man lifeboat launch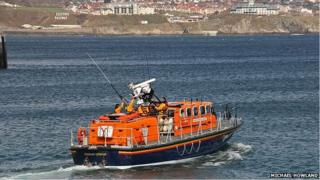 Two Isle of Man lifeboats were launched on Sunday afternoon after a boat went missing in the Irish Sea.
RNLI crews from Douglas and Ramsey were called out at about 14.30 BST, an hour after the vessel failed to return to Douglas Harbour as scheduled.
The operation, coordinated by Liverpool Coastguard, centred on the east coast of the Isle of Man.
An RNLI spokesman said the boat was found in Laxey Harbour at about 15: 45 and the two men onboard were uninjured.