Isle of Man aerospace job figures 'very encouraging'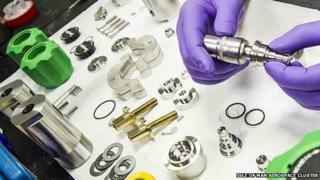 More than 880 people are now employed in the aerospace industry in the Isle of Man, according to figures released by the Manx government.
The figures show that 881 engineers and support staff are currently employed by 21 businesses, collectively known as the Isle of Man Aerospace Cluster.
The figure is a 6% rise on the previous year (837 jobs) and a 38% rise since the Cluster's creation in 2006.
Leonard Singer MHK said the figures were "very encouraging."
The figures were announced at the Cluster's 25th Quarterly Forum in Douglas and include the loss of 41 jobs after the closure of CVI Technical Optics.
'Busy order books'
Mr Singer said: "These are very impressive figures and prove that the Isle of Man continues to be an attractive location for those looking for long term, well-paid careers in engineering."
The manufacturing industry is one of the key sectors within Government's Vision2020 strategy for the island's continued economic growth.
In last month's budget the Manx government committed to spending £1m to develop a "dedicated engineering training centre of excellence" in Douglas.
A spokesman for the Department of Economic Development said the boost meant it could double the intake for apprenticeships from September.
Chairman of the North West Aerospace Alliance (NWAA) Martin Wright, who spoke at the meeting, said the prospects for the Isle of Man Aerospace Cluster are "very good".
Mr Wright said: "As an integral part of the UK's aerospace supply chain, IOMAC members can expect to keep very busy order books for the next few years".