Rare Bishop's seal declared treasure trove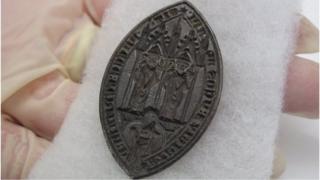 A rare 14th Century Bishop's seal discovered by a metal detecting enthusiast in the Isle of Man, has been declared Treasure Trove at an inquest.
The silver seal, which was discovered by Andy Falconer, is described by historians at Manx National Heritage (MNH) as "incredibly significant".
It was declared Treasure Trove at Douglas Court House on Wednesday.
Mr Falconer, from Douglas, said he made the "once in a lifetime discovery" in a field in the north of the Isle of Man.
He added: "I've found a few coins over the years but this is by far my most important discovery- it's always been my ambition to find something that will change history."
Gold ring
The seal itself is about 3cm in length, made of silver, and shows two figures sitting facing out and a third kneeling in prayer.
Around the edge there is an inscription in Latin, which translates as "Let the prayers to God of Germanus and Patricius help us".
Curator of archaeology at MNH, Allison Fox, said: "It is a very rare find and an important part of Manx history.
"It is the first of this type and from this date ever to be found in the Isle of Man."
Another item, thought to be closely connected to the silver seal, was also declared Treasure Trove during a separate inquest on Wednesday.
A gold ring which was found about 40 meters away from the seal was discovered in 2011 in the same field in the Parish of Michael.
The ring, which is thought to date back to the same time, was found by another metal detectorist, Rob Farrer from Peel.
Experts believe the ring, along with the silver seal, could have belonged to a high-ranking member of the church.
"This is a high quality item of jewellery which is still in very good condition- it has a gold content of about 90%," said Miss Fox.
"Experts think it would have had a gem stone of some description within it at one point- we think it is likely the two items were buried together."
Both pieces are currently being held at the Manx Museum in Douglas.