Jaks fire: Bar evacuated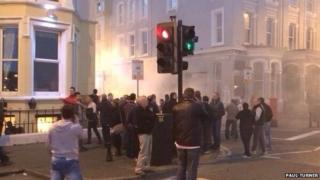 More than 200 people were evacuated from a bar and restaurant on Loch Promenade in Douglas after a "significant fire" on Wednesday.
Twenty firefighters battled the blaze at Jaks bar and steak house, which is thought to have been caused by an electrical fault at about 20:30 BST.
Owner Andrew Gibbs said: "It is frustrating but the main thing is no-one was injured."
It is believed Jaks could be closed for up to two weeks.
A number of properties in the area were left without power during the fire after the Manx Utility Authority (MUA) isolated the electricity supply.
A MUA spokesman said he did not believe there would be any further power cuts as a result of the incident.
Station officer Richard Harvey said fire crews, along with engineers, would be back on site on Thursday morning to assess the damage.
He said: "It was close to capacity last night with the restaurant and the football, so well over 200 people.
"It is not suspicious but we will be down again today with MUA engineers to establish the cause."
He added: "The owners were brilliant and acted very quickly to get so many people out so quickly."
Three appliances were used to put out the fire, which is believed to have started in an electrical cupboard at the rear of the property.