Jaks fire: Bar opens after 'significant fire'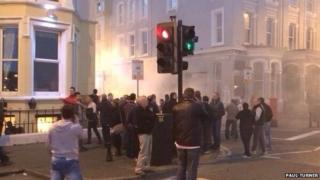 A Douglas bar and restaurant has reopened after a "significant fire" led to 200 customers being evacuated last week.
Twenty firefighters battled the blaze at Jaks bar and steak house, which is thought to have been caused by an electrical fault.
It had been thought the bar would be closed for more than a week for repairs to be carried out.
Owners thanked the fire service for their "quick action".
They also thanked the Manx Utilities Authority, their staff and customers.
No-one was injured in the fire.
Three appliances were used to put out the fire, which is believed to have started in an electrical cupboard at the rear of the property.