Escaped ring-tailed lemur spotted in Sulby driveway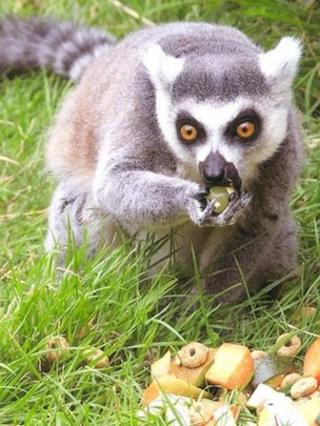 A ring-tailed lemur called Linta who escaped from a wildlife park on the Isle of Man more than a week ago has been spotted for the first time.
A motorist saw the missing primate in a driveway in Sulby, and park manager Kathleen Graham said she was probably looking for food.
Mrs Graham said the man told her the lemur looked "perky and bright".
Linta was one of two females brought to the Curraghs Wildlife Park last month from a English zoo.
The new arrivals had just spent three weeks being bonded with two males in the park's new hospital building.
When the four animals were moved into their outdoor enclosure, surrounded by an electric fence, Linta jumped over it and escaped.
'Needle in a haystack'
Mrs Graham said: "They were all getting on fine and we did everything right. She didn't see it as a fence but an obstacle to jump on whilst she established her new territory.
"She will have got little zap but kept going."
Park staff have been searching the surrounding area each day and are now concentrating on the Sulby area.
Mrs Graham said: "She will be missing her bananas and grapes but the park is surrounded by a huge and largely uninhabited area of woodland.
"It is like looking for a needle in a haystack.
"Obviously we don't know if she has gone much further but if anyone spots her please let us know - she is not dangerous and we just want her safe return."
It was hoped the two females would breed with the two males to make a group - although the highly sociable animals are not endangered.
Linta was named after a river in Madagascar where she is originally from.