'Zero tolerance' warning follows IoM hospital assault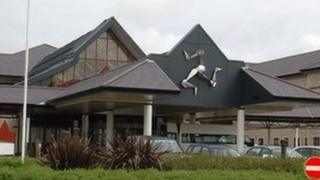 A zero tolerance approach will be taken to violence against Isle of Man hospital workers following an assault on two staff, a Manx MLC has said.
The warning follows the conviction of a patient who assaulted A&E staff at Noble's hospital whilst experiencing hallucinations caused by drugs.
Dudley Butt MLC said there was a "zero tolerance approach to violence and aggression against staff."
Following a review all staff have now been issued with personal alarms.
Mr Butt said the Department of Health and Social Care took the safety of staff "extremely seriously".
'Clear message'
Despite the incident, Mr Butt said the hospital had one of the lowest rates of violence against staff in England.
Sixteen cases of physical assault were recorded at Noble's between April 2012 and March 2013 - three of which were in A&E.
The majority were caused by elderly patients outside A&E who were either confused or suffered from dementia.
A spokesman said the figures would place Noble's amongst the 16 safest acute hospitals in England in terms of assaults on staff, out of a total of 161.
Mr Butt said following the review panic buttons are to be installed in A&E and a business case is being developed to upgrade the CCTV system.
All hospital staff have also been fully trained in techniques to deal with situations involving aggression.
Mr Butt said: "The message is clear - unacceptable behaviour ranging from verbal abuse, to threatening behaviour, to actual physical assault will simply not be tolerated."
According to the department 32,915 people attended A&E for treatment between April 2012 and March 2013.