Isle of Man GCSE proposals: Hundreds submit views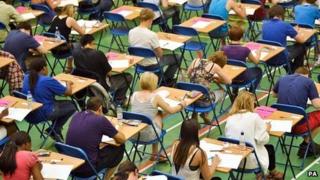 About 400 people have submitted views during a consultation into proposals to adopt a replacement for GCSEs planned for England.
Changes in the UK mean exam boards currently used by the Isle of Man will no longer exist in their present form from 2015.
The options being considered are the new English GCSEs, the International GCSE and the Scottish National system.
The consultation, which was launched on the 2 April, will close on 16 May.
'Voice heard'
The Department of Education and Children said 70% of the responses so far are from parents with a further 17% from teachers.
Education Minister Tim Crookhall said analysis on the views has yet to begin.
He said: "I'd urge anyone with a stake in our education system who hasn't yet submitted views to participate in the consultation and have their voice heard."
From 2015, pupils in England will no longer sit GCSEs, currently studied in the Isle of Man, in the core subjects.
Sine the consultation was launched in April further changes to the new-look GCSE in England have been announced in subjects including science, history and languages.
The island's education department said it wants to have a "clear policy by September".
People can submit their views online until 16 May.