Glasgow 2014: Vikings carry Queen's baton on Isle of Man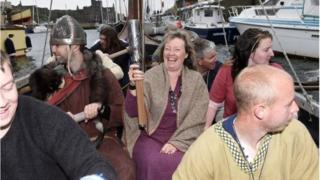 The Queen's Commonwealth Games Baton has visited the TT grandstand and been carried on a Viking longboat on the third day of its Isle of Man tour.
The baton is on the island for four days before continuing onto Northern Ireland on Tuesday.
Many of the largest ever Manx Commonwealth Games team, due to compete later this year, will carry the baton.
Isle of Man shooter, Lara Ward, said: "It is a real honour to carry the Queen's baton."
The Commonwealth Games is the highest level at which a Manx sportsman or woman can represent the Isle of Man.
The baton began the day at a time-trial cycling event held on the TT course before travelling to Peel to travel across the harbour in a Viking longboat, travel on a lifeboat and visit a kipper factory.
Peel lifeboat man Juan Owens said: "It was heavier than I expected but great fun.
During the day it will travel on a quadski - a combined jet ski and quad bike - as part of a flotilla around the Tower of Refuge in Douglas harbour.
The Isle of Man's team manager Trevor Taubman said it was fantastic that so many people had come out to greet the baton."
The baton, which contains a message from the Queen, will visit all Commonwealth nations and territories ahead of Glasgow 2014.
The monarch's message will be revealed at the opening ceremony on 23 July.