TT 2014: Motofest could become 'established TT event'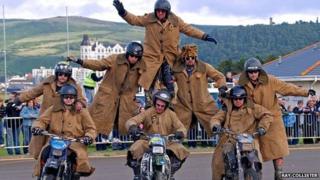 A new festival set up in the north of the island during Isle of Man TT week has the potential to attract thousands of people, organisers have said.
Motofest in Jurby will see bands from across the island and UK perform alongside a variety of motorsport entertainment over eight days.
Event director Tina Carter said: "Our aim is to create a fantastic atmosphere for both locals and bikers alike."
About 30,000 people will visit the Isle of Man during the annual races.
Mrs Carter said: "It's the first year so we are not sure how many people to expect - it could be hundreds or it could be thousands.
"We want to bring TT entertainment away from Douglas and make Jurby a focal point. The aim is to establish Motofest as an annual event like the Ramsey sprint."
Thousands of bikers attend the traditional Ramsey sprint in the north of the Isle of Man every year to watch bikers from all over the world compete over a strip of promenade almost a mile long.
As well as bands there will be a variety of entertainment put on at Motofest including stunt shows, displays and the chance to do a tandem skydive.
The festival will begin at the Jurby Motodrome in the north of the island on Friday.