TT fans arrive on Isle of Man for 'greatest event'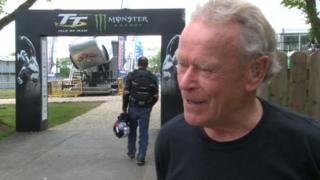 Thousands of motorcycling fans are arriving on the Isle of Man for the TT races.
Around 35,000 visitors from all over the world are expected to visit the island during the festival fortnight.
Over the TT period, race tourists will spend in the region of £26m and drink an estimated 10,000 pints of beer every day.
Grenville Wilde, from Shropshire, said: "It is, quite simply, the greatest racing event in the world."
He added: "I have already booked for next year and having that ticket in my hand is like winning the lottery.
"The first time I came was in 1957 when I was just 16 years-old, and over the years it's just got bigger and better. As long as I am healthy, I will continue to come."
Tourism surge
To accommodate the annual tourism surge, an extra ferry has been chartered and temporary accommodation has been built at the Grandstand in Douglas.
Sports Editor at Manx Radio, Tim Glover, said it is the biggest two weeks of the year for the Isle of Man.
"Everything comes to life during the TT. I think the majority of people, as soon as TT 2014 has finished, will be counting down the days to 2015, and that's how big a deal it is."
The island's ferry operators, the Steam Packet Company, said initial figures show almost 7,000 people have already booked for next year.
The TT circuit consists of about 40 miles of public road, on which competitors can reach speeds of around 200 mph.
Racing for TT 2014 begins on Saturday and concludes with Senior Race Day, 6 June.