Simon Andrews: 5,000 bikers take part in memorial lap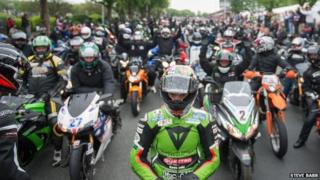 Thousands of bikers completed a lap of the Isle of Man TT course on Sunday in memory of English rider Simon Andrews.
The Worcestershire racer, who made his TT debut in 2011, died from his injuries when he crashed at the North West 200 a fortnight ago.
About 5,000 bikers from all over the world completed a lap of the 37.75 mile Mountain Course.
Twenty-time TT winner and former team-mate John McGuinness said it was a "fitting tribute."
'Totally overwhelmed'
He said: "It is an absolutely fantastic turn out. He's stopped the whole Isle of Man."
The convoy stretched for more than 15 miles, according to organisers.
Former MotoGP rider and commentator Steve Parrish read out a statement from the family prior to the lap.
Organiser Mark Walls said: "This was a fitting tribute to a young rider lost too early to the sport be loved.
"We're totally overwhelmed by the support," he added.
The 29-year-old from Evesham had been due to compete at the TT for the German Penz13.com BMW Racing team.
His fastest lap of the Mountain Course was 126.001 mph.
His funeral will take place at Worcester Cathedral on 17 June.