Completed £2.9m food park 'could provide 125 jobs'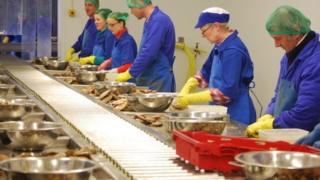 Approval will be sought in Tynwald this month to spend £915,000 on the final phase of a food park in the west of the Isle of Man.
Environment minister Phil Gawne said completion of the project, which has already cost £2m, would provide a "valuable boost" to the Manx economy.
About 70 jobs have already been created at the park and it has been estimated the figure could rise to 125.
Phase one is already up and running and phase is in the construction phase.
'Considerable boost'
The second phase, costing about £1.4m, was given Tynwald approval in May.
Three new vacant plots will house 1,220 square metres of industrial units and see utilities and roads in the already occupied southern half of the Park improved.
Mr Gawne said the economy would receive a "considerable boost" if the third phase gets approval.
He said: "By providing a centre of excellence for the food production industry, the opportunity exists to maximise the industry's contribution to the Isle of Man's economy."
The Department of Economic Development said the development of the Food Park was a "key priority."
Each year, the Isle of Man exports about £8m worth of scallops and the industry currently supports about 150 jobs at sea and 200 on land.