Conifa World Cup: Manx footballers 'did the nation proud'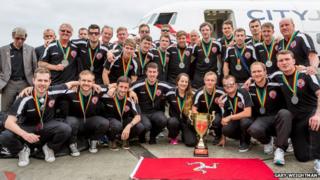 The Ellan Vannin football side who reached the final of the Conifa World Cup "did the Manx nation proud", the chief minister has said.
The Manx team suffered an agonising shoot-out defeat to Countea Di Nissa FA in the final in Sweden on Sunday.
The team recorded four wins en route to the final over Nagorno-Karabakh, Kurdistan, Arameans Suryoye and the eventual winners.
Chief Minister Allan Bell said it had been an "outstanding success."
Efforts praised
The week-long tournament in Östersund was the inaugural world cup for non-Fifa nations.
Chief Minister Allan Bell praised the Ellan Vannin (Manx for Isle of Man) team's efforts.
Chris Thomas MHK said: "This group of players have shown how far you can get with hard work" and "no doubt inspired the next generation."
With a population of about 85,000, the island was competing against teams with much larger populations including Kurdistan with more than 35 million people.
On Sunday the Manx International Football Alliance (Mifa) behind the team announced that it would be putting together a bid to host the 2015 Conifa European Championship.
One in every seven children on the Isle of Man plays for one of the 26 registered clubs, which Mr Bell said was proportionately higher than any region in the UK.