Isle of Man ferry cancellations for repair work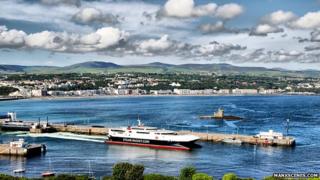 Passengers will face disruption next week as vital repair work is carried out on two ferries, the Isle of Man Steam Packet has said.
The Manannan services on Tuesday have been cancelled to allow repairs to be carried out on one of its engines.
It was damaged by discarded fishing gear during TT week and will be out of service for 24 hours.
On Wednesday the Ben-my-Chree will have a stabilising fin, damaged in heavy weather, refitted.
During the refit the Manannan and the chartered freighter, MV Arrow, will provide services to Heysham and Liverpool.
Chief executive Mark Woodward said: "We appreciate that any kind of disruption to services can be frustrating for passengers and we would like to thank those travelling next week for their patience and understanding."
Any passengers affected will be contacted directly.