New Archbishop of Liverpool in Isle of Man visit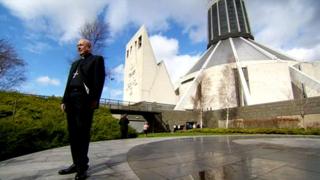 The newly installed Roman Catholic Archbishop of Liverpool will visit the Isle of Man this weekend.
The Right Reverend Malcolm McMahon, 64, will attend a confirmation ceremony on Friday evening at St Columba's Church in Port Erin.
In his first visit to the island since his consecration, the former engineer will meet members of the Manx clergy.
The archdiocese covers Liverpool, the south west of Greater Manchester, South West Lancashire and the Isle of Man.
Archbishop McMahon succeeds Archbishop Patrick Kelly, who stepped down in January 2013, after a stroke in 2012.
He was ordained a priest and was elected the order's English Prior Provincial in 1992 and consecrated Bishop of Nottingham in 2000.