Isle of Man police jobs to go in cutbacks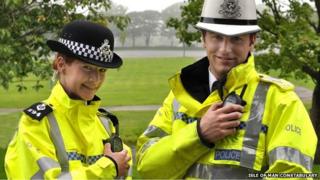 Twenty-six posts within the Isle of Man constabulary are to go this summer, to help achieve "challenging financial targets", it has been announced.
The chief constable blamed a "shrinking budget" for the changes, which also involves the closure of two stations, Lord Street in Douglas and Port Erin.
The 11% job cut brings the number of officers down from 236 to about 210.
Gary Roberts said: "In an ideal world I would not cut police jobs, I am though operating in the real world."
The Chief Constable added: "It is my professional opinion that further reductions could not be absorbed without there being a real threat to public safety."
A government spokesman said the police force needed to make savings of £900,000 in the next two years.
In 2012 the constabulary announced the loss of up to 10 jobs and the closure of two police stations (Onchan and Braddan) as part of government cutbacks.
A spokesman said other changes include an overhaul of the island's Financial Crime Unit and a reduction in the number of detectives, road policing officers and senior officers.
The reduction in police numbers has to be achieved by retirements or resignations, as police officers hold an office under the Crown, and cannot be made redundant .
The government said no members of support staff will be made redundant, or be redeployed outside the constabulary.