Isle of Man coroner call prompts 'legal high' ban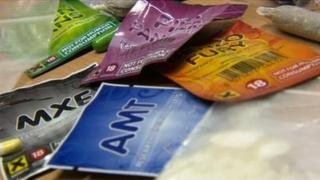 Tynwald, the Isle of Man's parliament, has voted to ban a "legal high" drug called AMT after a call for stricter controls from the Manx coroner.
Last year John Needham recommended the substance be made a controlled drug after the death of a man in the south of the island.
William James Ritchie, from Ballsalla, died in February 2013 after taking alpha-methyltryptamine, or AMT.
The Manx ban comes into force on 1 July and will last for a year.
A permanent extension will be made after 12 months.
A government spokesman said the new legislation made AMT a Class C drug on the Isle of Man.
At Douglas court house last November an inquest heard that Mr Ritchie died either directly because of the toxic effects of AMT, or in combination with an underlying liver condition.
New rules to tackle the rise in the use of the drugs were announced by the European Commission earlier this year.
Health Minister Howard Quayle said: "AMT is a substance which gives rise to a social problem in the island and should be banned to reduce the potential for another death."