Nesting choughs cause cliff climbing delay at Chasms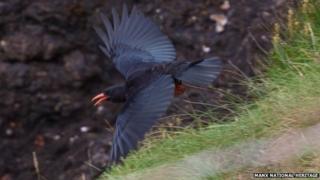 The closure of an area of the Chasms to climbers has been extended until 14 July due to late nesting choughs, Manx National Heritage (MHN) has announced.
Ornithologists recently visited the site to check nesting activity and said the cliff-dwelling birds were still in the midst of their breeding season.
An MNH spokeswoman said indications are that the young will not be big enough to fly until the end of June.
The Isle of Man is one of the few strongholds for the species.
It is thought there are fewer than a 100 breeding pairs resident on the island.
'Charismatic birds'
The Chasms and the Sugar Loaf rock are both popular sites for climbers.
The spokeswoman added: "Every effort is made to minimise the inconvenience caused to people by the restrictions while ensuring that these charismatic birds have the best chance to breed successfully".
Local climber Ethan Jackson said: "I'm not surprised my the decision.
"We respect what they want and never climb near the nesting birds - there are plenty of other routes to climb."
The areas known as Sugar Loaf and the Anvil are subject to a later closure until 31 July.
Choughs and their nests are protected under Schedule 1 of the Wildlife Act 1990.
The birds, which are a member of the crow family, are slightly smaller than a rook and have bright red legs and feet and a long red, slightly curved beak.
They are mostly found on the south and western coast of the island.