Isle of Man Parish Walk: Joint record holder wins race outright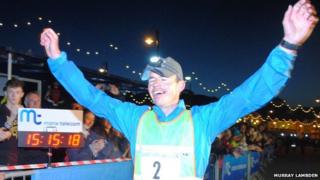 The joint Parish Walk record holder has secured an outright win at the 101st race on the Isle of Man.
Richard Gerrard completed the 85-mile (137 km) race in 15 hours, 15 minutes and 20 seconds - 38 minutes ahead of second placed David Walker.
Two years ago, Mr Gerrard crossed the finish line with Vinny Lynch in 14 hours, 42 minutes and 32 seconds.
Janette Morgan, who finished sixth, was the first woman to cross the line.
'Very Happy'
She completed the race in 16 hours, 48 minutes and 14 seconds.
Winner Mr Gerrard said: "It is something I have always wanted to do - I am very happy,"
Richard Wilde was third, Robbie Callister, fourth, and Phil Marshall fifth.
In total, 184 of almost 1,400 competitors completed the full distance in hot conditions.
Alex Eaton smashed the under-21s record covering the 32.5 mile (52.3 km) course to Peel and Danielle Oates won the women's under-21 walk over the same course.
During the event participants visited all 17 of the island's parishes. The race was first held in 1923 although other versions date back to 1848.
Last year, hotelier Michael George from Douglas won the endurance event in its 100th year in a time of 14 hours, 44 minutes and 49 seconds.