Noctilucent clouds visible from the Isle of Man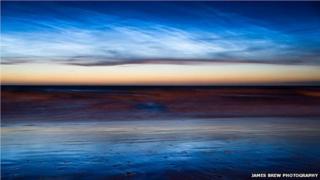 Noctilucent clouds, the highest in the earth's atmosphere, have been photographed from the west coast of the Isle of Man.
James Brew, from Andreas, snapped the clouds at about midnight above Peel Beach on Thursday.
Sightings of the rarefied clouds peak about 20 days after midsummer.
Mr Brew said: "I was greeted by this jaw dropping sky so I grabbed my camera and rushed out as quickly as I could."
Noctilucent clouds appear in the night sky between the end of May and start of August.
They appear 50 miles (89.5km) above the Earth in the mesosphere, right on the edge of space, and glow with a white-blue light.