Hundreds of scooter riders on Isle of Man for rally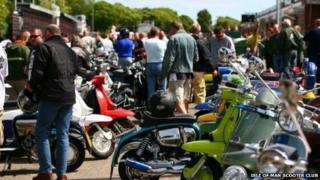 Hundreds of scooter riders with machines dating back to the 1950s have arrived on the Isle of Man for the biannual Scooter Rally.
The event, which dates to the 1950s, attracts enthusiasts and their machines from all over Britain and France.
Riders gathered at the TT Grandstand on Saturday before riding to Ramsey and back to Douglas.
Scooter Club Chairman John Kelly said the "colour, variety, noise and smell is not to be missed".
He added: "There will be a mix of vintage and modern machines, which themselves are usually retro-styled machines based on 1960s designs".
In its heyday the rally was both a competitive and social event attracting hundreds of races and thousands of tourists to the island.