Tour de France 2014: Cavendish win would be 'magical'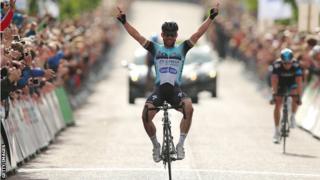 Seeing Mark Cavendish claim the Tour de France's yellow jersey in his mother's home town of Harrogate would be "magical," a former coach has said.
The Isle of Man cyclist is among the favourites to win the opening stage of the 101st Tour which begins in Leeds on Saturday.
Dot Tilbury, who taught him as a youngster said: "It would be extra special to win in his mum's home town."
Cavendish has already won 25 stages, putting him third on the all-time list.
The 29-year-old is one of four British cyclists in the race.
Mrs Tilbury, of the Team RL 360 Cycling school, said: "It would be magical to see him win in Harrogate on the Isle of Man's national day.
'Extra motivation'
"We all know the final sprint is fraught with dangers but he knows how to look after himself - we will all have our fingers crossed".
Five-time Tour de France rider Geraint Thomas said: "I know Mark Cavendish's mum is from Harrogate and that will give him extra motivation to win.
"It would be great for British cycling if Cav could do it and take the yellow jersey for the first time in his career".
Mark Christian, who will join Cavendish in the Commonwealth Games team in Glasgow, said it was a "massive opportunity" to get the yellow jersey.
"The whole Isle of Man will be behind him," he added.
Mrs Tilbury is travelling with dozens of people from the Isle of Man to cheer him on at the finish of the opening stage.
She has been working with a local sewing group to make dozens of 'three-legs' themed jerseys, which will be hung as bunting near the finish and in local cycling shops.
One member of the group said: "We've been knitting non-stop to support Mark. Hopefully he will see them and it will give him a boost at the finish line."
She added: "Harrogate council launched an appeal for knitters to make 3,000 miniature jerseys to decorate the town and they received more than 23,000.
"We had to represent the Isle of Man and support Mark."
Isle of Man stamps and coins have also launched a set of stamps to mark Yorkshire's hosting of the famous race.